Fried Fish & Zucchini With Spicy Tomato Sauce
Luschka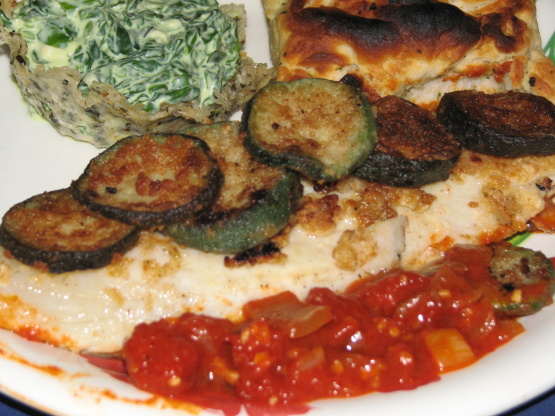 This attractive, spicy fish dish is very popular in Tunisia. Small cubes of salted eggplant can be substituted for the zucchini.

This was the first fish dish I've ever tried to pass off onto the family. I must say I was pleasantly surprised with how good it really was. I followed the recipe exactly except to omit the harissa since kids would be eating. Served with a side of recipe #314462 which tasted GREAT dipped in the tomato sauce. Even tho I'd be more likely to use chicken next time, the recipe is still a keeper!
Wash & dry the fish fillets, season with salt & pepper then sprinkle with the juice of 1 lemon, set aside. Mix the flour, bread crumbs, & paprika together in a bowl.
Peel the zucchini & slice into 1/4 inch thick rounds. Heat the olive oil in a frying pan. Coat the zucchini with the flour mixture then fry on both sides until brown. Place on a plate covered with paper towels to remove excess oil.
In the same oil cook the onion until soft. Add the tomato sauce, harissa, garlic, salt & pepper. Cook, uncovered, over medium heat for 10 minutes, stirring frequently. Add the juice of the remaining lemon to the tomato sauce.
While that is cooking heat 1/2 inch of canola oil in a skillet. Dip the fish fillets in the flour mixture, beaten egg, & in flour mixture again. Fry in the hot oil until the fish is done, should be flaky. Drain on paper towels.
Place the fish & zucchini in a shallow serving dish & top with the sauce.