Annacia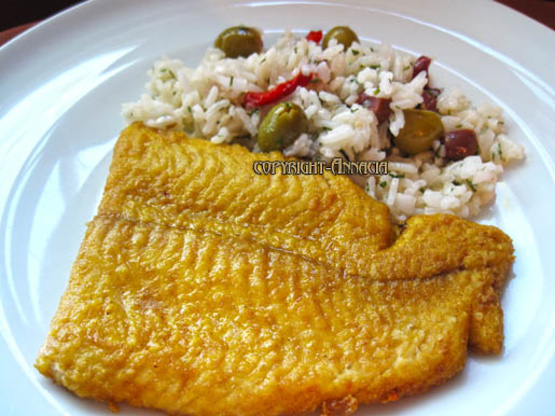 This is a tasty fried fish which we like served with rice and Kuwaiti Tomato Sauce (Dukkous Al-Tamat). I have made this with whole deboned light skinned fish as well increasing the coating as needed based on fish size. No need to remove the heads! I always make our version gluten free using double the amount of white rice flour and half the amount sweet rice flour & tapioca starch, though it fries OK I can see it would work better with regular flour. Modified from Delights from the Garden of Eden by Nawal Nasrallah.

Excellent simple fish recipe! I made it gluten free with gluten free flour mix (rice flour and arrowroot starch) and it worked very well. Thanks for sharing this delicious recipe!
Made for Come Visit Iraque / N*A*M*E Forum.
Mix spices in a ziplock bag or bowl and coat fish pieces.
Fry them in a 1/2 inch deep oil of choice, turning once until golden brown on both sides. While frying help keep pieces flat by pressing on them with a metal spatula. 5-10 minutes cooking time depending on fish thickness.
Sprinkle with some sumac or squeeze on fresh lemon juice.
Serve immediately, with rice, a fresh salad and Recipe#387327.