Fried Eggs With Garlic, Lemon and Mint
COOKGIRl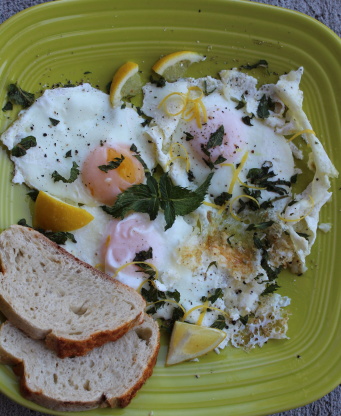 This sounds so weird and good at the same time! It intrigues me and I'd like to try it one day. From The Star of Texas Cookbook by the Junior League of Houston and Claudia Roden's New Book of Middle Eastern Food.

Thursdays are our official Eggs for Dinner and we tried this recipe last night. What would have made it a five-star recipe would have been the use of fresh mint. Fresh local eggs, garlic from the farmer's market, fresh mint from the garden. Delicious, easy, economical, healthy. Served with crusty Italian artisan bread, steamed baby artichokes and plain cooked pink beans. The eggs were garnished with lemon wedges, lemon zest, sprinkle of Sicilian salt and cracked black pepper. Very good! I would strongly suggest fresh mint only for this recipe and not dried mint. You cannot even compare the two. Thanks for posting the recipe!
1⁄2 lemon, juice of, can use more

6

eggs, gently broken into a bowl, don't break yolks
dried mint, crushed
Crush the garlic with the salt and mix well with the lemon juice.
Melt the butter in a large frying pan.
Add the garlic mixture.
As the butter begins to color, slide in the eggs(previously broken into a bowl)and fry gently.
Crush the dried mint and sprinkle over the eggs.
Cover pan briefly to set yolks.
When eggs are set, sprinkle lightly with salt and serve immediately.