Fried Eggplant (Aubergine)
Feej3940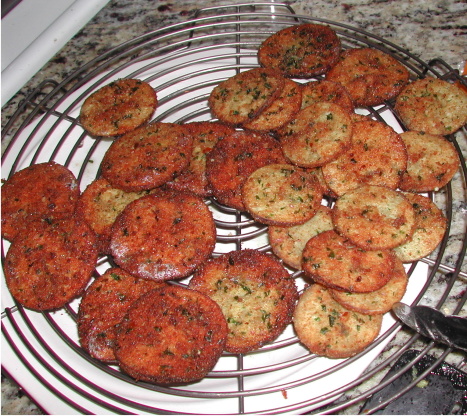 An adopted recipe I've not tried. Here's hwat the OP says about it: "Very easy fried eggplant. Just like shake n' bake!My husband really likes this recipe. He says it's the best fried eggplant he ever had. Easy to make this "parmesan" by adding sauce, mozzerella and baking. Very cheap too!! One SMALL eggplant feeds 6!"

Just an FYI, I have almost the exact same recipe and if you want to make it low fat you can also bake them in the oven. Either way, they're delish!
Preheat oil in pan on medium till a splash of water sizzles on it.
Put everything in a giant freezer ziploc bag EXCEPT the eggplant, oil and eggs.
Skake it up well.
Lightly beat eggs in a bowl.
Dip eggplant slices in egg and add to bag about 3-4 at a time.
Shake them up good.
Place battered slices in hot oil.
flip after 2 minutes.
Remove when browned on both sides, about 4 minutes total.
Continue until all slices are done.
I always make this with pasta, garlic bread and my stuffed mushrooms (recipe posted).