Bev I Am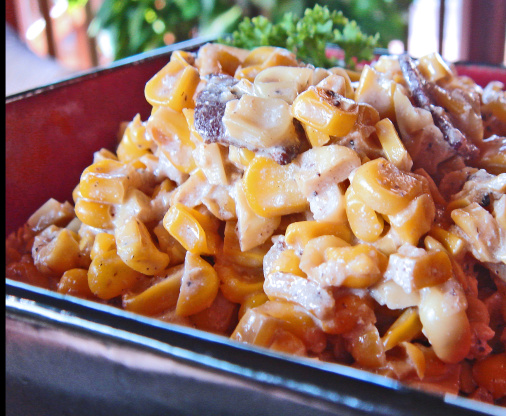 For a real treat, when you tire of the corn ON the cob this summer, give my version of Fried Corn a try. It is very easy and takes little time while preparing the rest of the meal. My mom always fixed fried corn this way when I was growing up. She used milk, but the half and half gives it a little richer taste. Trust me, if you try this, you will want to have it again ; )

I made this because Bev made it for the Family Tree Name Game and it sounded so good! And it is! I think it is VERY good; my family said 4 stars. That's ok, I can eat the whole bowl myself. :) Thanks for posting Bev, and thanks for bringing it to my attentin Luvin' Texas Bev!
Fry the cut up bacon in a large cast iron skillet till just crisp.
While frying bacon, cut corn kernels off cob.
Remove cooked bacon and save for another recipe (I use mine in a tossed salad).
Empty all except 4 TBS bacon fat in pan.
If using onion, cook in bacon fat for a couple minutes on medium heat.
Add corn to skillet and season to taste with salt and pepper; cook and stir on medium heat until just beginning to brown.
Add a little half and half (milk; or a combination of both) and continue to cook, stirring, adding more liquid as it begins to evaporate.
Add only enough half and half or milk to give it a creamy texture.
If using half and half and the consistancy is too thick, add a little milk to thin.
Continue cooking on low, stirring every now and then, until corn is tender, maybe 10-15 minutes.
Check and adjust seasoning adding more salt and pepper as needed.
Serves 4.