Fried Cod for Fish and Chips With Tartar Sauce
lazyme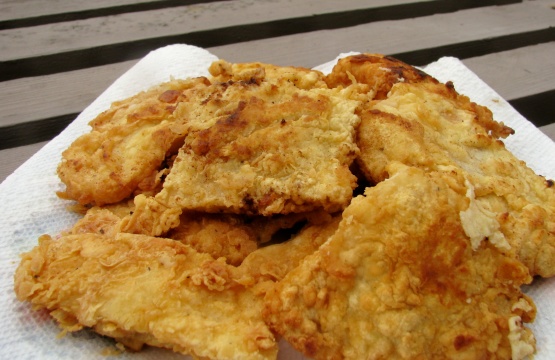 Simple and Yummy! We think it's better than Ivar's fish and chips which is the best fast food fish and chips in the USA! Try this Really Easy Tartar Sauce with it. ***Please note that the nutrition facts are a little misleading - you will not be using all of the flour/salt dredge mixture and most of the shortening will still be in the pan when you are done cooking.***

Followed direction to the letter and WOW. Light and yummy! Was not heavy or greasy at all. Served with oven fries and green peas. I used frozen ready to cook fish instead of fresh - very good with that!
Cut each fillet into 3 pieces and dry on paper towels.
Heat the fat until the end of a wooden spoon bubbles, about 375*.
Mix flour with salt and pepper in a flat dish.
Mix egg and water in a bowl.
Dredge cod pieces on all sides and shake off excess flour.
Dip dredged pieces into egg wash and shake off excess egg.
Dip into flour once again and shake off excess flour.
Fry in hot fat until the pieces are nicely browned.Don't crowd the pan. Depending on the thickness of the fish it could take 2 to 5 minutes. Try to turn no more than once.
Drain on paper towels and serve with a lemon wedge, Recipe #406770 and fries.