Fried Chicken (Szechuan Style)
ImPat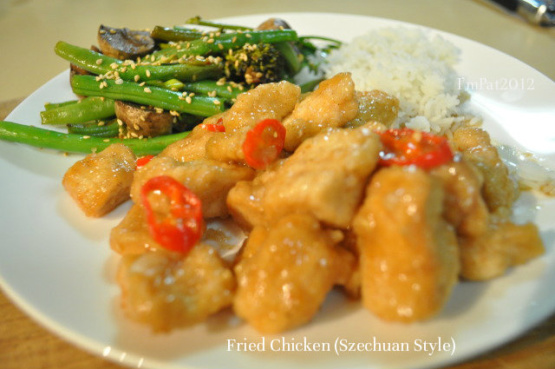 I have been cooking this for years and usually serve with fried rice. It is important that you have everything measured out and ready to go.

This was really yummy and easy to make. I kept everything as the written recipe. I used rice wine and jarred chillies and it worked out fine. I found the sauce just covered the chicken but it was enough to enjoy it as a fried chicken with sauce instead of a "curry". I served it with a tomato and snow pea salad and steamed rice. Thanks I'mPat
Cut chicken into bite size pieces and put to one side.
Mix cornflour, five spice powder and salt together and put to one side.
Heat up your oil.
Mix stock, sugar, vinegar, dry sherry, five spice powder and pepper in a jug or bowl.
In a small bowl/container mix the second lot of cornflour and the water.
Coat chicken with the cornflour salt mix (we do it in 2 or 3 batches for if left for any length of time the chicken will stick together and be awkward to handle).
Deep fry in batches and then drain on paper towel and then transfer to an oven proof dish and keep warm in a low heat oven.
When all chicken is cooked keep warm to one side.
Heat tablespoon oil in a wok or large frypan/skillet and add chillies, garlic and ginger and stir fry for minute or until fragrant.
Add stock mix and bring to the boil and then add cornflour water mix and stir until thickened.
Put cooked chicken into the sauce and stir to coat and fully heat through.
Serve with rice or we prefer fried rice.