Fried Chicken Breast Without Breading
Derf2440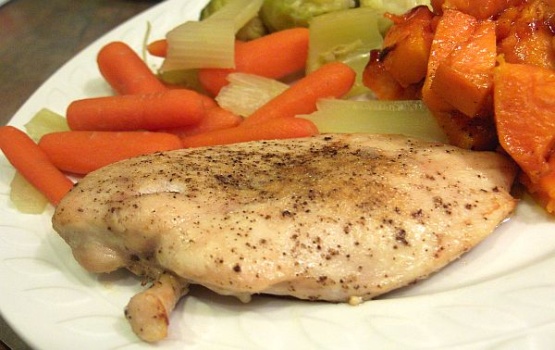 I make this as part of a quick dinner or lunch.
1. All oils have roughly the same amount of fat by volume. 2. Nowhere did this recipe claim to be low-fat. 3. It IS much lower-fat than regular fried chicken because it is pan-fried and not totally-immersed in the oil. 4. "Low fat" is a thirty year old diet fad with disastrous results for human health. Fat from whole foods is good for you. If the fat used in this recipe can be considered "unhealthy", it is not because it is fat, it is because it is hydrogenated fat. 5. This recipe is far far healthier than those requiring glucose-spiking and inflammation-causing wheat flour, as is typical for fried chicken. So if you want a low carb, lower fat recipe using good healthy whole fats, by all means make the substitution. But the recipe as-is is a significant improvement on both the fat and the carb content. (It was delicious, too. I added sriracha powder to mine.)
Slice chicken breasts into strips or flat rounds, whichever you like.
Sprinkle all seasonings over one side of the chicken lightly, then flip and sprinkle the other side.
In a large frying pan, pour in just enough vegetable oil to coat the bottom. Heat the vegetable oil until good and hot.
Turn the heat to medium. Add chicken and cook for 3 minutes on one side then flip.
Turn heat to low and cover. Continue to cook for 5-10 minutes until the chicken is done.