Syrinx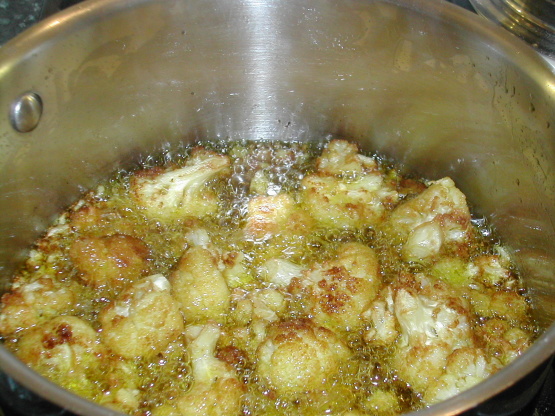 This was another of the Middle Eastern foods that I was raised on. Amazingly simple to make, this can convert any french fry addict into loving cauliflower!

Boy, is this recipe a hard one to review. The flavor of the cauliflower when fried is wonderful it truly brings out another depth in flavor. It's the first time my kids ate all of their cauliflower without asking for grated cheese on top or blue cheese dressing for dipping. I just couldn't give it 5 stars though because of the texture... the cauliflower becomes too soft. Growing up my grandmother had to make sure every vegetable was dead before serving. Everything was always so mushy. Because of that I usually lightly steam my veggies so that they are more crisp then tender, quickly stir fry them, or eat them raw. However, if you prefer cooked cauliflower over raw, you really must give this recipe a try. Made and reviewed for Spring PAC 09
1

head cauliflower, separated into flowerettes

12

ounces oil, preferably olive (for frying)
Wash the flowerettes. Dry thoroughly.
Heat oil to medium high.
Carefully put the cauliflower into the oil.
Fry until deep golden brown, turning as needed.
Using s straining spoon, remove from oil.
Salt to taste.