PaulaG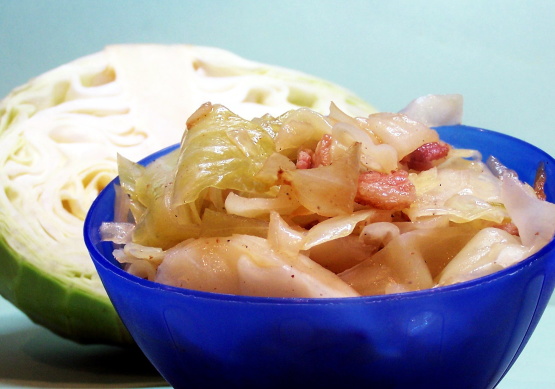 Delicious. Add the salt and pepper to suit your taste.

Really good! Was trying to come up with something to make and stumbled across this. Will make it again as a side dish. Tonight it was the main dish. Followed the recipe but used 6 slices of bacon (because I had 6), one small cabbage and a small sweet onion.
Cook bacon until crisp.
Remove bacon from pan.
Reserve 1 tablespoon of drippings.
Drain bacon on paper towels, while cooking the cabbage.
Add cabbage to bacon drippings.
Sprinkle with the salt and pepper.
Saute over medium-high heat for 10-12 minutes or until tender.
Sprinkle with the crumbled bacon.