Rayndrop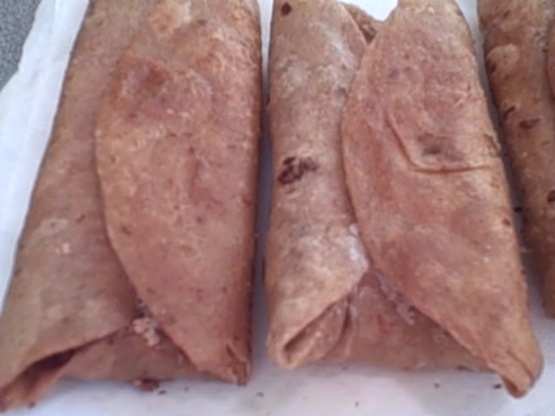 My MIL made these for my DH when he was younger. Now that we're married, I've taken over. I'm not sure where she got the idea of frying them. I searched for a recipe on here and didn't find one, so I hope I'm not making a double post! I'm guessing on the amount of oil for frying, and you will probably have cheese leftover.

Very different! Very versatile too! Very creamy inside and crispy on the outside. Like a Taquito or Chimichanga without sauce. Ground beef sounds like a good filler, refried beans are quicker. It reminded me of DH's favorite meal at a restaurant that has bay scallops, lobster meat & baby shrimp inside with a creamy sauce inside & on top. I think some diced tomatoes would have made this more flavorful and perhaps use shredded cheddar or mexican cheese inside and on top. Very good recipe to have!
1

(8 ounce) cantraditional refried beans

1

(16 ounce) packagekraft deli style sliced American cheese
3⁄4 cup oil, for frying
Warm the tortillas for 15 seconds in the microwave. This will prevent them from cracking when you work with them.
If they are not sufficiently heated, heat for an additional 10 seconds until fairly warm.
Once heated, keep them warm by placing them in a tortilla warmer, or two inverted plates.
Put the oil in a deep skillet. The oil should be about an inch deep.
Turn the burner to medium-low. The oil is ready when a drop of water "dances" on it.
Remove one tortilla at a time from the warmer and place on clean surface.
Spread 1-2 tablespoon refried beans in a line down center of tortilla.
Place half a piece of cheese, followed by an additional fourth a piece cheese on the beans.
Fold the top and bottom of the tortilla in, then the sides.
Place, seam side down, in the oil.
Fry until browned on one side. This will not take long. Turn and brown on other side.
Prepare the remaining tortillas as you did before and place them to the oil. You should have NO MORE than 3 frying at one time.
When you remove them from the oil, place on a thick layer of paper towels to dry.