Bayhill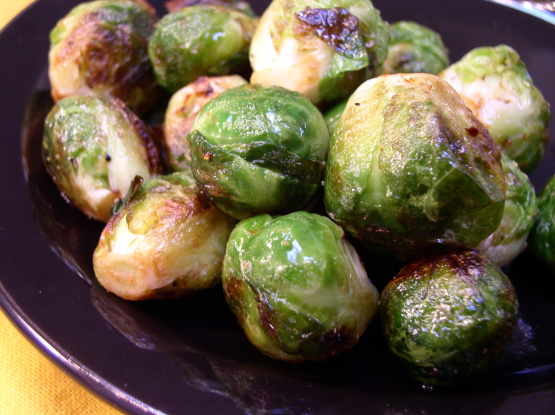 I've only eaten brussel sprouts steamed, until I found this recipe. This is from my mom's 500 Low-Carb Recipes' cookbook by Dana Carpender. I added the lemon juice. This recipe has lots of possibilities!

I LOVED this recipe. I've never fried brussel sprouts before and this sounded so differant. Finally got around to trying it last night and it went together so easy. I did add some sauted onions to the mix at the beginning and then followed the directions exactly. The addition of the garlic and lemon gave it just the right flavor. Thanks so much for posting.
Remove brown outer leaves of brussel sprouts. Cut the brussel sprouts in half. NOTE: Original recipe left brussel sprouts whole. It's your choice to cut in half or leave whole.
In sauce pan, heat olive oil over medium heat. Add the brussel sprouts and fry, stirring occasionally, until very dark brown, almost charred, but NOT burnt.
The last minute of cooking, add the garlic and stir in to combine. Be careful not to burn the garlic!
Season to taste with salt, white pepper and lemon juice if using. Serve warm.