Tamiroo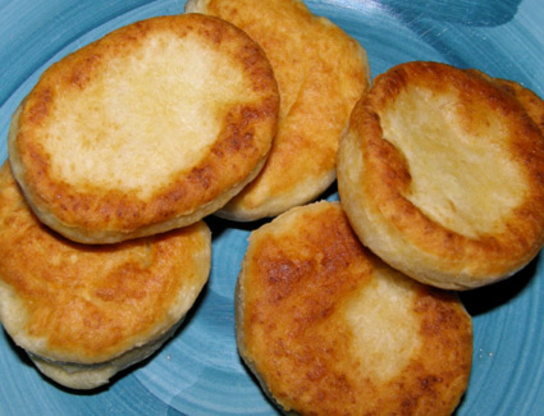 My mom used this on the mornings when we had run out of bread. She also used it to make sandwiches if needed. It came from my Granny who used it to round out meals during the Depression.

My cupboards were bare and bellies were empty, so when I found this recipe I was thrilled. Since there was no butter, jam or gravy available I got creative and added a few dashes of spices I had in the cupboard, the only salt I had was in a rosemary coarse salt blend so I added 2 teaspoons of that and some crushed garlic cloves in the dough before frying. It was great Thank you so much :)
Mix flour and baking powder. Add water to make a soft dough. Pat dough out on a sheet of plastic wrap to about 1/2" thick.
Heat up about 1/4" of oil or lard to medium heat in a cast iron or non stick pan.
Cut dough into about 9 biscuits.
Fry on one side until brown. Flip and cook about 2-3 minutes more. Test for doneness by flaking the side of a biscuit with a fork. If it seems dry inside it is done.
Serve with butter and jam. Can also be napped with gravy and served with stewed hamburger and onions.