Wayne M.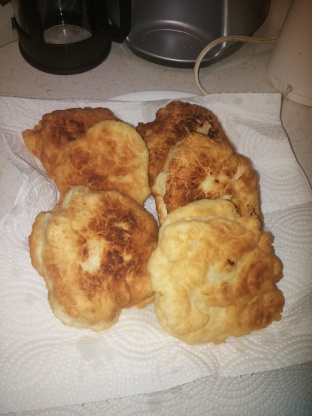 Aboriginal style fried bannock.

Don't bother looking for a better bannock recipe, this is the best, and very versatile as well. Today I am wrapping the bannock around wieners, bacon and cheese, then I will deep fry them and watch them disappear. Excellent warm with jam or butter and honey as well. You could add raisins, blueberries the possibilities are endless.
Mix half the flour with the remaining dry ingredients.
Add water until the mixture becomes thick, "like a paper mache paste".
Add more flour until the dough feels like a soft earlobe.
Heat the oil or lard over a medium-high heat until very hot, but not smoking.
Break off small pieces of the dough and flatten each to the size of your palm, about 1/2-inch thick.
Place the pieces in the hot oil, turn after about 3 minutes, or when golden brown.
Place the bannock on a paper towel to soak up the excess grease.
Serve plain or with jam.