Sara 76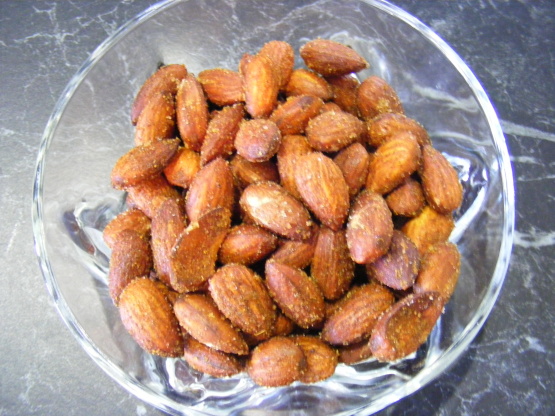 A delicious and extremely quick-to-make recipe which I was delighted to find in the October-November 2008 issue of 'dish'. As I don't like hot and spicy flavours, I made these with a mild paprika. Those who do like foods hot and spicy might want to add cayenne pepper. Please, do adjust the spices to meet your taste preferences. As almonds boost energy levels particularly at those times such as early afternoon when - given the choice - many of us may choose to have a siesta, I intend to have these on hand in a container at all times at work as a quick energy-boosting snack. I've found that even half a dozen almonds can provide the boost needed at such times, and these will offer a more flavoursome alternative to plain almonds.

We also buy almonds in bulk form and I'm always looking for different ways to spice them up. This is a great combination of spices, sweet and salty with the paprika and cumin undertones. I used about a tablespoon of the olive oil to 1 1/2 cups of almonds and that was plenty. Made for ZWT5, Hell's Kitchen Angels.
25

g whole blanched almonds (30g = 1oz, so just under an ounce, though precise measurements aren't crucial here)

2

tablespoons olive oil

1

teaspoon sea salt

1

teaspoon caster sugar
1⁄2 teaspoon hot smoked paprika
1⁄2 teaspoon ground cumin
Heat the oil in a sauté pan, over a medium heat, add the almonds, stirring frequently until they are well-coated with the oil and golden. Do not have the oil too hot as the almonds will then brown and their middles will still be raw.
Combine the remaining ingredients in a bowl to make the spice mix.
Transfer the almonds to a plate using a slotted spoon and sprinkle with the spice mix.
Cool before serving.