Fresh Watermelon and Fruit Salad
Rita1652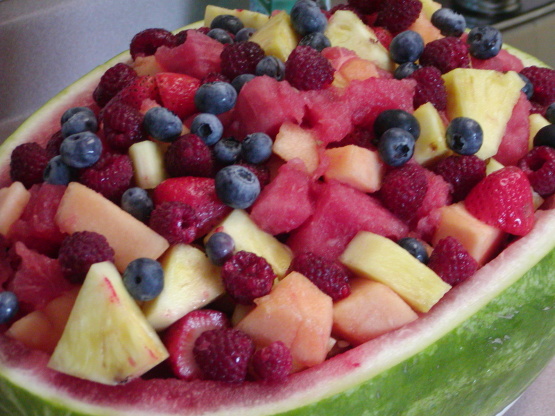 My DBF(the truck driver) came home with extra watermelons from his delivery so I had to do somthing with them. This is very tasty, colorful and refreshing on a warm day.

Wonderful flavour and pretty. I added all but the honeydew, strawberries and raspberries as I didn't have those freshly on hand at the time and didn't want to use frozen berries. Everything I used was fresh except for boxed orange juice which I would also add fresh next time. I will make this again possibly without the pineapple as there was some left at the end per my family.
Slice the watermelon lengthwise about 1/3 of the way from the top.
This will be your bowl so you may have to slice a small portion off the bottom in order for it to sit flat.
Either ball or chunk the watermelon flesh.
Hollow out the watermelon shell completely.
Ball or chunk the remaining melons.
Chunk the pineapple.
Mix all the fruits in the melon bowl.
Combine the juices, water and sugar together.
Pour over the fruits and toss lightly.
Chill if desired or serve immediately.