Fresh Walnuts in Syrup (Glyko Karydaki)
awalde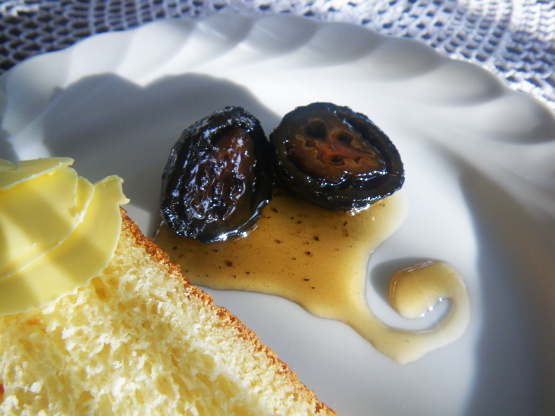 This is traditional Greek spoon sweets this can be ranked on the top of the list as the best. June 24 happens to be St John's day and tradition has it that the green walnuts must be picked on this day, but in reality it depends where you live. The important thing is that the walnuts are not only green, but still tender and no woody. For this recipe you need some time, but it's something really special. Handling the nuts you should always wear gloves otherwise your hands will go black! We like this traditional spoon sweets for the breakfast like a jam (for example on my Zopf or Braided Bread Zopf or Braided Bread) and we like the syrup especially on plain yoghurt.
If you cannot prepare the nuts the same day, you can store them in the fridge for about two weeks.
Wash the nuts and peel the outer skin.
Take a knitting needle and prick the walnuts once. Place in a pot with plenty of water to cover them.
Boil till soft.
Remove from the saucepan and put into a large bowl of cold water.
Leave in the water for 48 hours, changing the water every 8 hours.
Remove from the saucepan and put into a large bowl of cold water and add the juice of one lemon.
Leave in the water for 1 hour, this will make them crunchy and shiny.
Put the 400ml of water and the sugar together in a saucepan and bring to the boil. Simmer for 8 minutes.
Drain the nuts and put them into the syrup and boil for 5-7 minutes.
Take the saucepan off the heat and put to one side for 24 hours. The walnuts need to stay in the saucepan to cool for 24 hours. At no time should you put the lid on the saucepan.
Put the saucepan back on to boil and boil rapidly, when it is ready (the syrup thickens) add the juice of one lemon, boil for a little and remove from the heat.
Add the cinnamon and the cloves.
(The preparation time doesn't include the waiting time. Cooking time only approximately).