Roasted potatoes, eggplant, zucchini and tomatoes, topped with roasted garlic and served with crusty bread. The dish has few seasonings, allowing the flavor of the vegetables to shine. Although it's not necessary, when choosing the vegetables, pick them in somewhat the same diameter. It will make alternating them in the baking dish easier and more visually appealing. A lovely dish.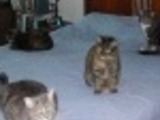 This dish was absolutely delicious and very pretty too. The taste of the vegetables really did shine through beautifully. I also used a couple of pinches of dried rosemary as I couldn't find fresh, but I did top it with gruyere cheese which I thought might suit this dish better than mozzarella. I used less than half the recommended amount of oil myself and put some crusty whole-wheat bread in the oven with the vegetables for the last 5-10 minutes which I then rubbed with half the garlic. The other half I crushed on top of the veggies. A perfect vegetarian main meal and I think this would be an excellent "company" dish too. Thanks!
Preheat oven to 400°; grease a 9" x 13" baking dish with 1 T olive oil.
Arrange the vegetables in the dish in slightly overlapping rows, alternating potato, eggplant, zucchini and tomato; season with salt and pepper; place rosemary sprigs on top and garlic in the center of the dish; drizzle everything with the remaining 3 T of oil.
To keep the dish moist and tender, swirl the dish to move the oil around every 10 minutes; bake 40-50 minutes, until vegetables are tender and garlic is soft.
Remove from oven; remove the rosemary sprigs and set the garlic aside to cool a bit; squeeze the garlic flesh into a bowl and mash; spread it on the vegetables or on the toast if you prefer; sprinkle vegetables with cheese and return to oven 2-3 minutes until cheese is just melted; serve warm.