Fresh Vegetable Pizza Appetizer
Bri22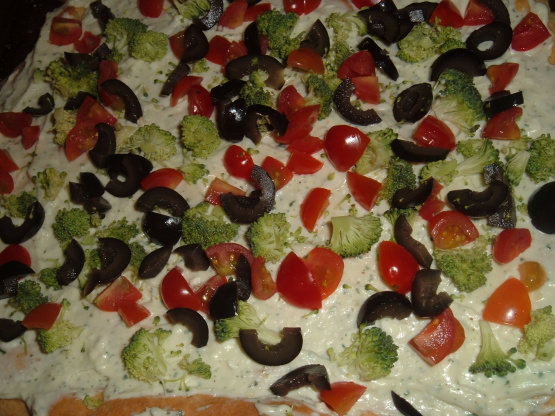 One of my favorite make-ahead, deliciously different appetizers for a party! Everyone love it and asks for the recipe. DH doesn't like broccoli and he loves this pizza, as all vegetable flavors blend after overnight refrigeration. I'd guess it serves about 24+ people with little 1-inch square bites. Leftovers, if there are any, can be refrigerated for about 2 days.

Top Review by Kim127
I absolutely loved this!!! I halved the recipe and then once I tasted it, I wished I didn't. I'm gonna make more soon and it was really simple to make. I made it in the morning and then we ate it for lunch. I used scallions, cucumber, celery, carrots, tomatoes and broccoli. It was a hit with me, my fiance, and his niece and nephew, all enjoyed. I highly recommend this and will keep the recipe handy. Thanks Beachgirl!!
2

(13 7/8 ounce) cansrefrigerated ready-made pizza dough or 2 (10 7/8 ounce) cans refrigerated crescent dinner rolls

SAUCE

8

ounces cream cheese, at room temperature
1⁄2 cup mayonnaise or 1⁄2 cup low-fat mayonnaise

1

(1 ounce) package dry ranch dressing mix

TOPPINGS

1⁄2 head fresh broccoli, top florets only

1

bunch spring onion, including tops, thinly sliced

1 -2

fresh ripe tomatoes, peeled, seeds removed, diced
1⁄2 cucumber, peeled, seeds removed, diced

4

ounces grated sharp cheddar cheese (1 cup) or 4 ounces shredded parmesan cheese (1 cup)

OPTIONAL TOPPING INGREDIENTS

sliced green olives (optional) or black olives (optional)
thinly sliced purple onion, chopped (optional)
thinly sliced celery (optional)
grated carrot (optional)
minced red bell peppers (optional) or green bell pepper (optional)
sliced and diced summer squash (optional)
sliced mushrooms (optional)
sliced asparagus spear (optional)
almost any vegetables, you like raw (optional)
Preheat oven to 375°F.
Lightly grease 17x11 rectangular cookie sheet or a 16-ounce pizza pan.
Press pizza dough into pan to form a crust.
Bake as directed on package until crust is done and just slightly browned on top.
Do not overbake.
Cool.
Mix Sauce ingredients together and spread over cooled crust.
Prepared all of the vegetables of choice by dicing them into very small pieces, placing each vegetable in a separate bowl or stack.
***Pay special attention to the tomatoes, as you need to drain these on paper towels to remove all excess moisture.
Blot both top and bottom of tomatoes until they are dry.
***Sprinkle each vegetable, along with the cheese, evenly over the pizza, covering the cream cheese sauce in a decorative fashion.
Cover entire pizza with plastic wrap and gently press toppings into the cream cheese.
Refrigerate until serving time.
(I prefer to refrigerate overnight to let flavors blend.) Cut into small, appetizer servings (about 1"x1") (I use a pizza cutter for this).
Don't be tempted to add too many toppings to this pizza.
Toppings need to adhere to cream cheese to make it neater to serve and eat; however, I always have some topping fall away when I cut this.
***I have kept this pizza in the refrigerator for several days, and it was still very delicious.
SUBSTITUTE any of the toppings you like in place of the ones listed.
I always select toppings that have a variety of complementary colors for a pretty presentation.