Ms B.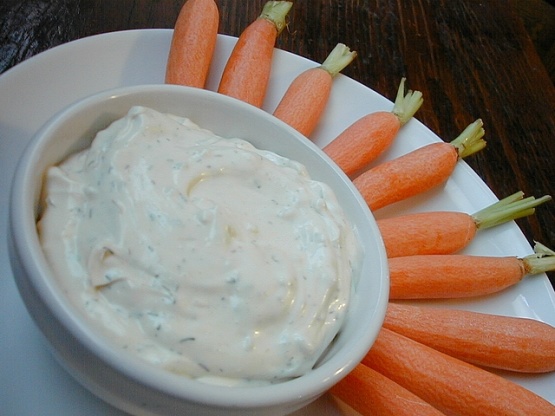 Cool, creamy family favorite.

It's hard to believe such a simple recipe can be so good! My kids aren't wild about most cooked veg, but will readily eat raw so long as there is some dip to go with it. I was tired of store bought ranch dip and decided to give this one a try. This was a winner in a big way -- my DH, I and our 5 kids demolished an entire platter of baby carrots, celery, grape tomatoes, green pepper broccoli and blanched snow peas -- this dip enhance the flavor of all. Although I'm sure it will be even better tomorrow, we made it two hours before dinner, and it was delicious. Best yet, my 10 year old budding chef whipped it up, so this is now known as "Molly's Dip!" Thanks for a great recipe - this will be a long time family favorite!
Combine all ingredients in a bowl.
Chill for 1 hour.
Serve with fresh veggies.