UmmBinat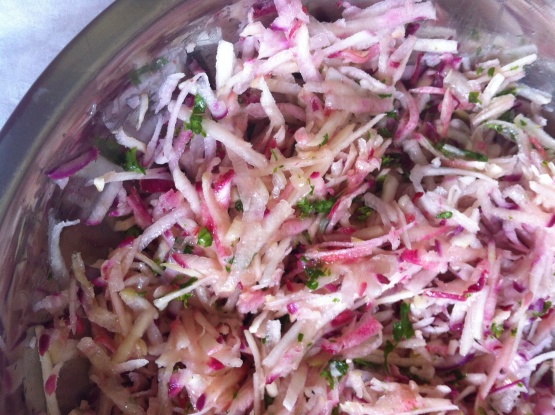 A simple salad with a refreshing flavour.

Fresh tasting salad. I can't give it 5 stars because of the sugar. I used various coloured organic salad turnips from our weekly local organic produce basket, leas organic apple cider vinegar to be healthier, a light tasting organic olive oil, organic raw cane sugar, organic parsley, organic onion, sea salt, and freshly ground black pepper. I'm glad I tried it but I don't think I will make it again.
Wash and dry turnips. Cut off ends and leave unpeeled.
Grate turnips. A julienne hand grater or food processor are ideal.
Place in medium bowl.
Combine rest of ingredients.
Mix into turnips.
Chill well.