Fresh Tomato Soup With Rice
Derf2440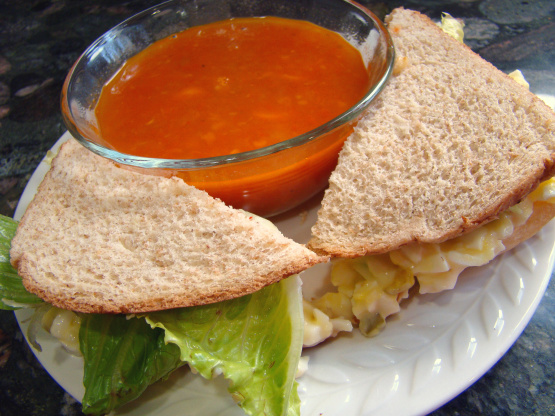 Came from Southern Cooking. I added extra veggies (carrots & celery). I also added 5 tablespoons of rice. I did not peel or seed the tomatoes. I used less butter as my behind is big enough.

Love the flavour of this soup, just like eating a fresh tomato off the vine, delicious! I used just 3 teaspoons of olive oil instead of the butter, and 10 large tomatoes. Next time I will add more veggies. I did peel the tomatoes but didn't bother seeding them. Used my motor boat to puree it but left some lumps. The bit of rice makes it fairly thick without having to puree the whole thing. Also used brown basmati rice so had to simmer it for about 45 minutes. A lovely soup to have in the freezer for winter, it made a delicious light lunch. Thanks for posting I will make this one again. April 1/.10 made again for photo forum challenge, for lunch and the freezer today, used canned stewed tomatoes this time, worked out very well.
In a saucepan, sauté onion, celery and carrots in butter until softened but not browned. Add tomatoes and a small amount of chicken broth. Simmer for 15 minutes. In a Dutch oven or stock pot, combine sautéed vegetables, remaining chicken broth and rice. Season with salt, thyme and pepper. Simmer 20 to 30 minutes. Serve garnished with parsley. If desired, blend a few cups of soup and add back to the mixture for a thicker soup.
Serves 8 to 10.