Rita~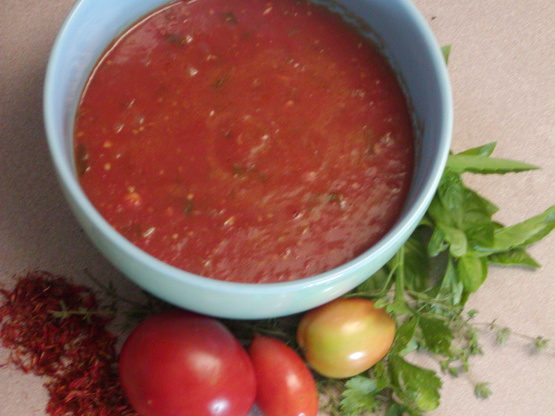 A recipe from my Great Aunt's collection. This is one she clipped out of the paper, probably the Chicago Tribune. This contains some unusual ingredients - in particular saffron and ground coriander, and the recipe also calls for steeping a bundle of herbs in the sauce as it cooks. If saffron is too costly, you can substitute dried safflower or just leave it out. Makes 3 cups sauce.
Almost... incredible! Easy 'n' tasty!
Saute onion and garlic in olive oil in a large saucepan until tender.
Stir in flour until smooth.
Add tomatoes.
Wrap thyme, parsley, bay leaf, and orange rind in cheesecloth, tie, and add to the pot.
Add all remaining ingredients.
Heat sauce to a simmer, then drop on the lid and simmer 10 minutes, stirring occasionally.
Remove lid and simmer another 25-30 minutes, or until sauce has thickened.
Remove the herb bouquet and chill sauce overnight (or freeze for later).
Heat again before serving over hot cooked pasta or meats.