Fresh Tomato Sandwiches Saturday Lunch on Longmeadow Farm
kiwidutch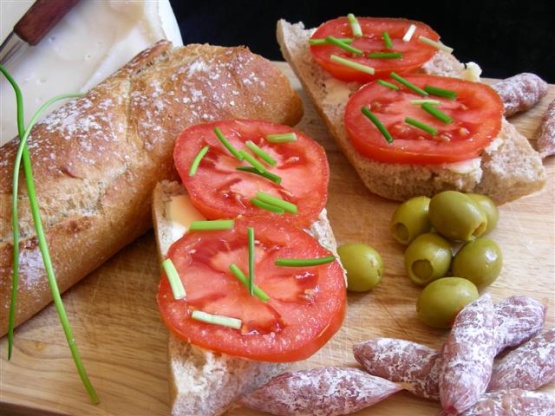 The back door swings shut with a loud bang, people are balancing fresh back porch iced tea in frosty glasses, with ice tinkling and bobbing around, in one hand. In the other hand, clutched tightly; holds a sandwich that heralds the start of the long hot summer. A big shade tree has several old lawn chairs randomly placed beneath it, and our friends hurry to plop down, with a sigh of complete satisfaction as they begin devour their pleasurable, but simplistic tomato sandwich, and sip the sweet iced tea.

Top Review by Teri T
I have been making tomato sandwiches all my life just like this EXCEPT I do not care for Miracle Whip. I like mine with Hellmans (Best Foods) Real Mayonnaise. Also like a bit of basil on it.
4

large fresh tomatoes, sliced (1/4 inch thick)

1

large white onion, sliced (1/4 inch thick)

1

tablespoon butter, softened (to room temperature, can use buttery spread, but changes taste)

8

slices fresh white bread (not toasted, prefer homemade, but can use sandwich bread, soft)

1

teaspoon fresh chives (snipped in small pieces)
Slice onions, tomatoes, and chives if using.
Spread butter (or buttery spread) on 4 slices of bread.
Top this bread with onions, tomatoes, and chives (if using) in this order.
Top with other 4 slices, and lightly but firmly pressed top bread onto tomato topped bread.
Slice in half, on the diagonal, and eat immediately.
Serve with fresh iced tea or lemonade.
Sit under a tree and let the warm breezes lull you into total enjoyment.