Bergy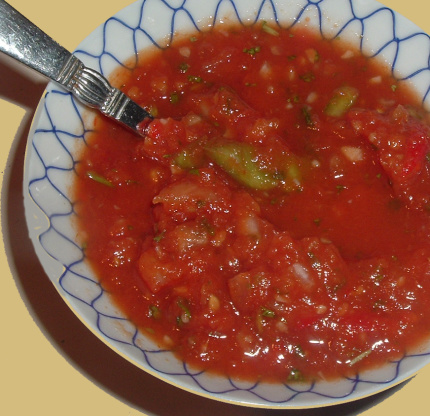 Every summer(and winter too) my co-worker ask for me to bring this in for a snack. A friend of mine once took it to the local Farmers Market as a way of selling her produce. One man offered to buy the whole gallon container just to take home!
8 -10

large tomatoes (home-grown the best, but store bought in a crunch o.k.)

1

large onion
jalapeno pepper (to taste for desired hotness)
chopped fresh cilantro (to taste)
chopped garlic
salt, to taste if desired
Chop all vegetables.
If you like hot leave a few seeds of jalepeno.
Sprinkle with cumin and salt to taste.
I have also used this same recipe and cooked all ingredients down.
Canned in sterile jars and processed according to directions.
This is good to add to the homemade chile in the winter!
You will never go back to store canned tomatoes again!