JustJanS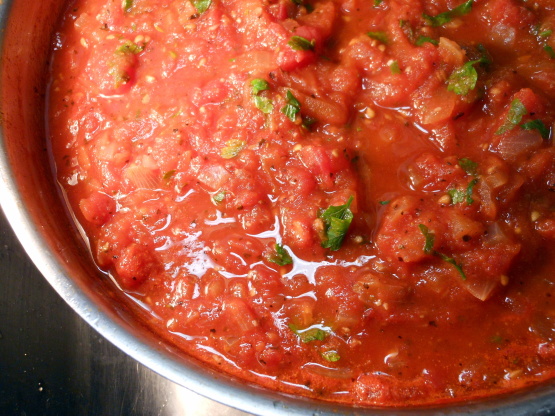 This is a wonderful sauce to make with fresh home grown tomatoes. I freeze this after its made for use as a quick and easy pasta meal. This sauce even tastes better the next day! It is the perfect way to use an abundance of tomotoes!

Another winner Tis-this is great. I bought a 10kg box of tomatoes recently with plans to make this the moment I saw any getting past their best (which is their best for sauce like this!). I am in a remote area of Australia and must make do at times-I had to used dried basil and oregano (which I prefer over fresh often) but had parsley on hand. I don't think this altered the outcome very much and anyway, I'm thrilled with the result. I'll be freezing this and using at a later date with prawns, yabbies (crawfish), bacon and chillies to make a few different pasta sauces.
Heat the oil in a large saucepan, cook the onion and garlic together, stiriing until the onion is soft. Add the tomatoes, salt and wine and simmer uncovered for about 15 minutes or until the tomatoes are soft.
Add the remaining ingredients, simmer uncovered for 10 minutes or until thickened. Remove bay leaves from sauce.
When cooled refrigerate for up to 3 days.
Use sauce as desired.