Fresh Tomato and Avocado Salad
ChefLee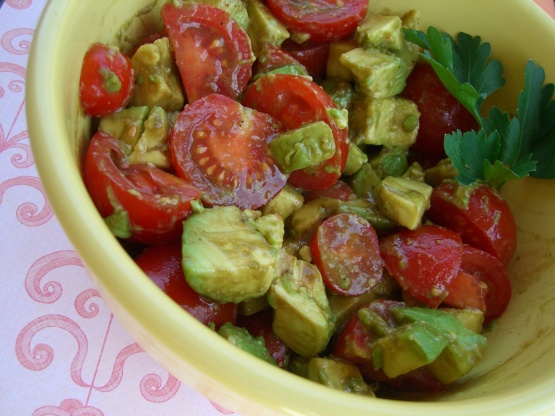 This probably doesn't really qualify as an actual recipe, but it tastes so good I thought I'd post it. Although I love cooking, when DH is out of town I often take a break and make whatever I feel like, so this was my dinner last night! I picked a fresh tomato from our garden and it couldn't have been more delicious!

Yummy, simple and wonderful. Thanks for reminding us to just enjoy what's fresh and delicious right now! I might add a little fresh corn lightly steamed then cut from the cob-- or would that be gilding the lily?
Cut up tomato and avocado into bite-sized pieces.
Drizzle with olive oil and balsamic vinegar, but not too much or it will overpower the other flavors!
Enjoy!