Pam-I-Am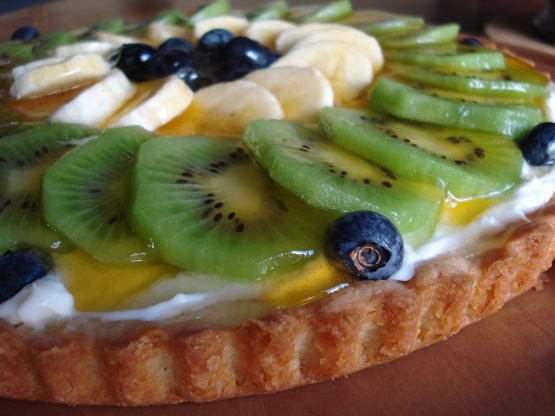 Easy, delicious, and impressive enough for company. I clipped this from a magazine a number of years ago. Peaches, blueberries and plums are all in season in June in Texas. This recipe represents the Southwestern state of Texas.
I've made this recipe for years,it's from BH&G. I've altered the recipe a bit. I use 8oz. cream cheese and 1/2 c. powdered sugar and omit the mint. It turns out great everytime. Spray the pan with cooking spray and it will come right out.
Crust:.
Mix together the flour and brown sugar in a food processor (or mix by hand). Add butter and pulse until mixture resembles coarse crumbs (or cut butter in by hand). Add the water slowly while running the processor (or sprinkle and toss while mixing by hand) until moistened. Form into a ball, and press firmly and evenly onto the bottom and up the sides of a 9 inch tart pan or pie plate. Bake in a 400 degree oven for 10 - 15 minutes or until light brown. Cool completely.
Cream filing:.
In a medium mixing bowl stir together cream cheese, sour cream, sugar, and vanilla till smooth. Cover and chill for up to 4 hours or till ready to fill tart shell.
Assemble tart:.
Sprinkle mint onto pastry. Using a spoon, spread cream filling evenly over the tart shell. Arrange fresh fruit on the filling. In a small saucepan heat jam just till melted. Cool. Drizzle melted jam over the fruit. Cut into wedges and serve immediately. Best if used within a day or two.