Kree6528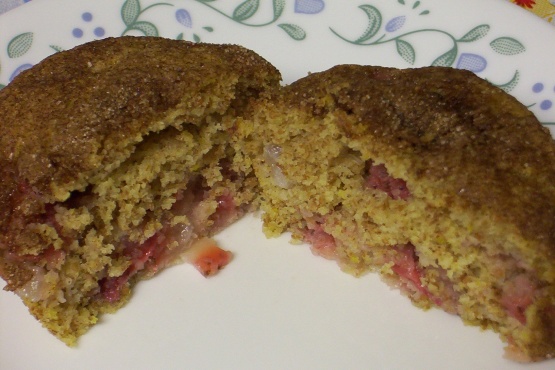 This is a great recipe for muffins using fresh strawberries. It is a bit different from the other strawberry muffin recipes posted as it uses whole wheat flour, buttermilk and almond extract. These are really good warm from the oven for a special breakfast/brunch. As usual, I have modified the original to use sugar and egg substitutes and whole wheat flour. My family loves these and asks for them often in the summer when strawberries are in season.

Top Review by Zurie
Okay Chris, I made your muffins today! I'm not rating them again, because I did make a few small changes. I used bread flour, a jumbo egg, and granulated sugar, but in the same quantities you gave. I think I used perhaps too much chopped strawberries: I measured them after rinsing and chopping, and it was just over 1 cup. This made them a little too fragile. However, my husband loved it because he could clearly taste strawberries instead of (as sometimes happens) almost nothing special. Next time I might decide to add cinnamon to the batter. Your baking time sounded too short to me. After 15 mins. they were still raw. I left them in oven for 30 mins, and that was fine.
Pre-heat oven to 375 degrees.
Spray muffin tin with cooking spray.
Mix together flour, sugar, baking powder, backing soda and salt.
In a separate bowl beat together eggs substitute, almond extract, buttermilk and canola oil.
Add wet ingredients to dry ingredients and mix until dry ingredients are just moistened.
Gently fold in the strawberries.
Fill prepared mussin tins about 2/3 full.
Top with cinnamon/sugar mmixture.
Bake 15 mminutes or until tester comes out clean.