Prep 45 mins
Cook 20 mins

Another gem from my mom's former co-worker, the Domestic Goddess! Frozen strawberries do not work in this recipe.
Directions
Combine cake mix, eggs, sugar, water, canola oil, and 8 oz sour cream. Bake in three layers at 350 degrees for 20-25 minutes, or until done.
Combine powdered sugar and 16 oz sour cream. (Do not use mixer.) Fold in Cool Whip, then strawberries.
Use strawberry mixture as both filling and frosting.
Store in refrigerator.
Reviews
Most Helpful
I ended up turning this into a trifle. I baked it as a sheet cake and then as I put the glass pan on the stove top it shattered. I was able to save the majority of the cake but it wasn't in one piece. The other problem I had wasn't due to the recipe was that I was taking this to a party and didn't have a cake plate big enough. So the trifle bowl had to do. I did increase the amount of strawberries to nearly 8 cups.
This is a nice boxed-cake recipe that I made as a sheet cake. To make it more strawberryish, next time I would use strawberry cake mix. Using sour cream in the cake made only a slight taste difference (barely noticable), but did make a nice flavoring in the Cool whip topping. Thanks for sharing your friends recipe. :)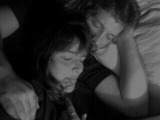 A wonderful, tasty cake. My family really enjoyed this one. Would not change a thing. Thank you so much!!!