Fresh Strawberry Bellini Mocktail
Annacia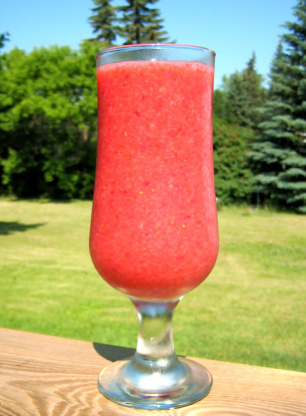 Created in Venice, Italy, bellinis are widely popular in the US, particularly in the Northeast. Here is a lovely non alcoholic version.

Oh this was delicious! My kids loved having something so fancy pants for our Thanksgiving dinner. I used frozen strawberries and let them thaw in the fridge for a day, then blended them quickly in the blender with a little sugar. This would be great any time of year, but I can't wait to try it in the summer for some fresh strawberries. Made and reviewed for Bevy Tag - Thanks! :)
Place 8 Champagne flutes in the freezer for 20 minutes.
Open the sparkling cider and let it stand in an ice bucket for 5 minutes(or place in freezer for about 15-20 minutes).
Into a pitcher, pour the 2 cups pureed strawberries. Gently pour in the bottle of sparkling cider, stir gently to combine.
Divide among Champagne flutes and serve. Enjoy!