Fresh Strawberries With Limoncello

A fabulous way to end an Italian meal.
15 fresh strawberries, cut into halves
9.85 ml limoncello
9.85 ml freshly squeezed orange juice
italian biscuit (optional)
Directions
Place cut strawberries in a bowl.
Pour over the liqueur, orange juice and sprinkle over with freshly ground pepper. Allow to marinate for at least 30 minutes.
Serve as is, or if desired, with Italian biscuits.
Reviews
Most Helpful
Well, this couldn't be simpler and it definitely tastes great. Even though I'm not the biggest fan of limoncello, the sugar and orange juice really mellow it out. I think this would go great on a dessert like cheesecake or sponge cake or even added to a fruit salad. Thanks for sharing this just in time for strawberry season!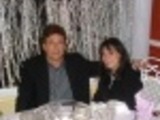 So simple and delicious! The limoncello and orange juice blend was great. Thanks for sharing!