Fresh Strawberries With Campari
BecR2400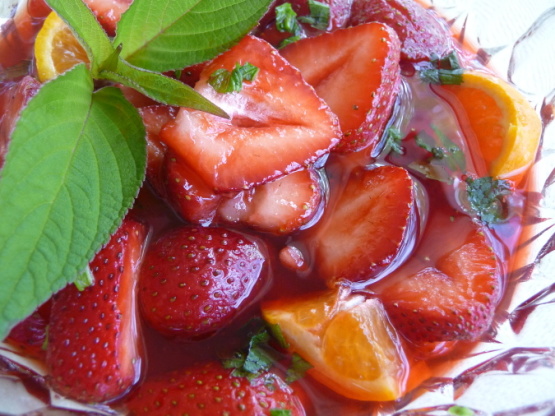 Sophisticated flavors in a yummy summer dessert/salad! Tastes a bit like candied grapefruit. Very refreshing!
473.18-709.77

ml sliced fresh strawberries

236.59

ml water

118.29

ml superfine sugar

29.58-59.16

ml campari (to taste)

29.58

ml rose's lime syrup

29.58

ml pineapple juice

14.79

ml fresh squeezed lime juice

118.29

ml fresh squeezed orange juice

3-4

fresh orange wedges

2.46

ml chopped of fresh mint
fresh pineapple sage (optional, for garnish)
In a medium bowl, whisk the sugar and water until sugar dissolves. Add the sliced strawberries, Campari, Rose's, pineapple juice, and the fresh squeezed lime and orange juices, stir to combine.
Garnish with orange wedges and fresh mint.
Serve right away, or cover and chill for several hours. Best eaten the same day.