Fresh Spinach With Leeks in Pernod
ChefLee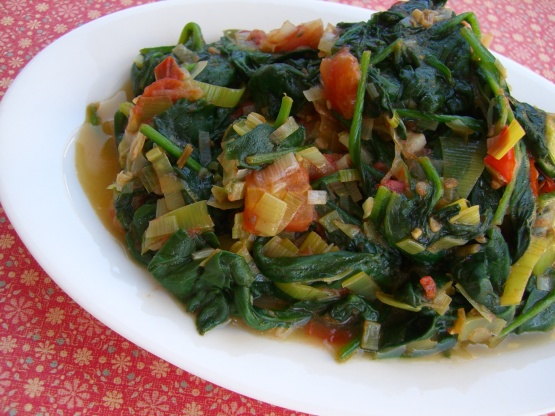 Pernod is the brand name of the licorice- flavored French liqueur pastis. You will find it under either of these names, as well as Ricard. It has been used as an ingredient in aperitiefs and in cooking for over 200 years! This is a fantastically easy as well as attractive dish we really enjoy - the Pernod tempers the bitterness you sometimes have with fresh spinach. I've put in a minimal prepartion time as this will really depend on how gritty your spinach and leek are. If you've never drunk Pernod before, consider giving it a try-- I'm also posting the recipe for the drink Pernod Classique (Pastis), which is a really refreshing summer drink. Millions of Frenchman can't all be wrong . . .
Clean your spinach really well in a sink full of water, and remove any tough veins and stems.
You may have to repeat the cleaning process several times to remove all the grit from the spinach.
Remove from water, but do not dry.
Clean the leek well in water, then chop all of the white part and any of the green part that is tender.
This should yield between 1 1/2 to 2 cups of leek.
Heat oil in a wok over medium heat.
Add the spinach, leeks, and tomato.
Cover, and cook 12 minutes, stirring occasionally.
Leeks should be crisp-tender at this point, and spinach wilted.
Drain the vegetables in a colander and immediately return to the wok.
Stir in the pernod and salt and pepper to taste.
Cook uncovered approximately 5 minutes or until the liquid has nearly all evaporated.
Serve.