Fresh Spinach With Ground Beef
Ms B.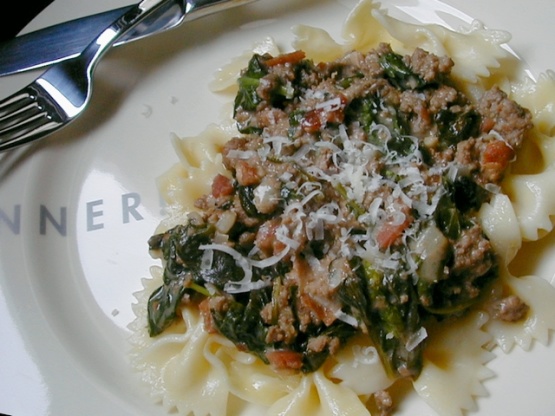 I found this in an old cookbook lent to me by a friend. It seemed like an easy comfort food recipe that could be prepared from ingredients that I usually have on hand, and wouldn't take a lot of effort on a tired night. Similar to ground beef stroganoff with spinach and bacon stirred in, my hubby loved it.
Love this dish and it is very versatile. I think I had a similar recipe several yrs. back but had forgotten it. Feel that the combination of the sour cream and spinach is really what makes this so good.
Sauté onion and bacon until cooked.
Add beef and cook until brown.
Add minced garlic and spinach.
Cook for 3 minutes.
Add broth, bouillon crystals, red pepper flakes, and sour cream.
Season with salt and pepper.
This can be served with rice or noodles and topped with Parmesan Cheese.