Fresh Spinach and Roasted Garlic Custards
Juenessa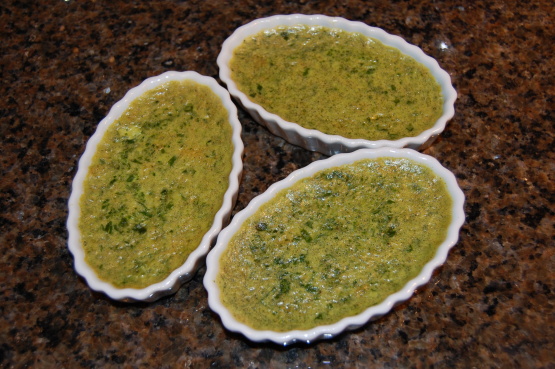 Another recipe from the October 2006 edition of Bon Appetit; these custards are very easy and impressive to make. They pair well with steak.

I do not like to give such a low rating, but neither my husband or myself really cared for this recipe. The taste was pretty bland and the texture was not to our liking at all. I usually love recipes from Bon Appetit. After we ate this, I looked up this recipe's rating and it gets a 3 out of 4 star on www.epicurious.com. I'm sure this is just a personal preference and others will like these custards when tried.
Preheat oven to 325°F Butter six 3/4-cup ramekins or custard cups and place in 13x9x2-inch metal baking pan. Fill large bowl with ice and water.
Bring cream to simmer in medium saucepan. Remove cream from heat. Add spinach, salt, and white pepper and stir until spinach wilts, about 1 minute. Place saucepan over ice water; stir to cool mixture quickly.
Pour cooled spinach mixture into blender; add eggs and roasted garlic. Blend until spinach is pureed and custard is smooth. Divide custard among prepared ramekins. Pour enough hot water into pan to come halfway up sides of ramekins.
Bake custards until gently set in center, turning pan after 30 minutes, about 55 minutes total.
Do ahead: Can be made 1 day ahead. Cool custards in water. Remove from water, cover, and chill. Rewarm custards 2 at a time, uncovered, about 1 minute in microwave at 50 percent power.
Cut around custards to loosen and turn out onto plates. Drizzle with extra-virgin olive oil and serve.