Fresh Spaghetti Squash Casserole

We grow fresh spaghetti squash in our garden, and this is about our favorite way to eat it. We usually leave the mushrooms out. My kids ask for seconds every time! It looks hard only because the ingredient list is a little long with all those herbs and seasonings. It is really quite easy to prepare.
Directions
Slice the squash in half lengthwise and scoop out the seeds. Place squash, cut side down, in a baking dish. Add water and cover tightly with foil. Bake at 375° for 20-30 minutes or until easily pierced with a fork.
Meanwhile, melt butter in skillet. Add the onion, garlic, mushrooms, herbs and seasonings; sauté until onion is transparent. Add the tomatoes; cook until most of the liquid has evaporated. Set aside.
Scoop out the squash, separating strands with a fork.
Combine squash, tomato mixture and all remaining ingredients except Parmesan cheese. Pour into a greased 2-qt. casserole. Sprinkle with Parmesan cheese.
Bake, uncovered at 375° for 40 minutes or until heated through and top is golden brown.
Most Helpful
I thought this was good (DH did not like it at all and is sticking with squash with butter and parmesan). I did make a few changes--I cooked the squash in the microwave, I left out the mushrooms, used ricotta instead of the cottage cheese, used a can of diced tomatoes, and a half cup of breadcrumbs. This will be my lunch for the rest of the week, and I'm not sorry--though I do feel that it needs quite a bit more salt (personal taste!). I think this recipe was a nice change to the usual. Thank you!

Very good recipe. My hubby really like it a lot. I wasn't sure if I baked it long enough as the cottage cheese did not melt. I might use ricotta next time instead. Loved the mushrooms in the dish. The only change I made was to used 1 can of diced tomatoes in place of fresh. [Made for Best of 2012 Tag Game]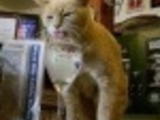 WOW! This is going right into my "Best of. . ." cookbook. Great flavors and textures. Made exactly as written (except I used a microwave method of cooking the squash). Can't imagine it without the mushrooms. Looking forward to the leftovers for lunch tomorrow! Made for Fall 2012 PAC game.