-Sylvie-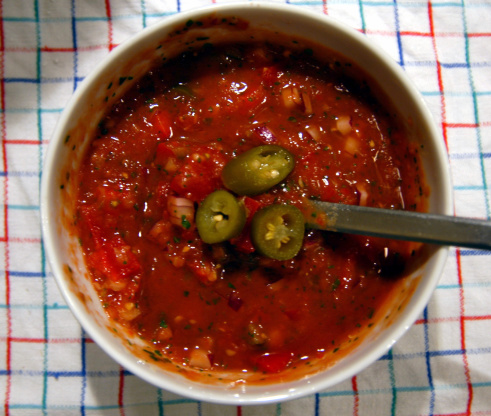 Here is the salsa recipe I use. You can adjust the amount of jalapanos to suit your personal taste. Linda Fresh Salsa Fresh Salsa

What to do with those extra Tomatoes and Peppers! Ummm, I'll make Salsa. Which we love, but never had I made it before. This recipe is GREAT!! Made it Sunday, and it was all gone by Wednesday. Making more real soon. I've sent this recipe to all my friends and family. I think they will love it too! 5 Stars aren't enough for this easy and great tasting recipe.
Using a blender or food processor, add equal amounts of each vegetable and using pulse, process just until it is still chunky.
Drain, reserving liquid.
Repeat until all vegetables have been processed.
Mix drained salsa, adding sugar, cilantro and salt. Add some of drained liquid to make it desired thickness.
If it is too spicy, add more tomatoes.
Refrigerate in glass container and use on tortilla chips, tacos, scrambled eggs, or as a relish.
Will keep for up to one week.