Fresh Raspberry Crumb Pie
jeffreyw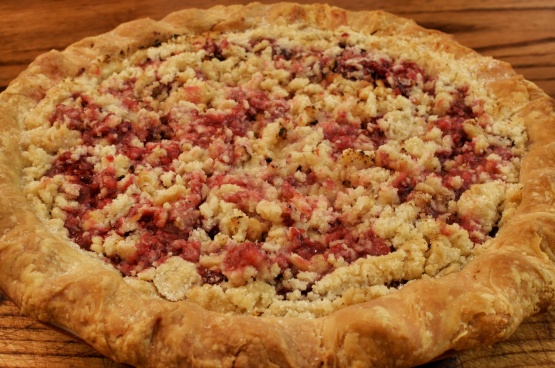 Tip for juicy berry pies--if you see a lot of juice in the filling before you have added the crumb topping, sprinkle several tablespoons of quick-cooking rolled oats over the pie and return it to the oven for about 5 minutes; the oats absorb the juice and form sort of a barrier; then add the topping and proceed as usual.

I don't know why someone hasn't tried this easy recipe! I made a homemade pie crust instead of store bought, your choice, but a homemade one gives it special flavor! I had just stopped by a blueberry festival and bought not only a blueberry plant but a large quantity of blueberries. So of course, I added them to the raspberries! I made this pie twice. Once following the recipe exactly, then changing a few things! Not using the raspberry jam seemed better, fresher tasting, homemade pie crust and added blueberries. Terrific! The crumb topping I added some chopped pecans and voila! Served it to dinner company and they loved it!
Place unbaked prepared pie shell in the freezer for 15 minutes; preheat oven to 400°.
In a mixing bowl, combine the raspberries, 1/2 cup sugar, and lemon juice; toss gently to mix; set aside for 10 minutes to juice.
Combine the 3 tablespoons sugar, cornstarch, and nutmeg in a small bowl; stir cornstarch mixture into the fruit mixture.
Spread the raspberry jam inside the chilled pie shell.
Scrape the filling into the shell, smoothing the fruit with a spoon.
Place the pie on the center oven rack and bake for 25 minutes.
Meanwhile, to make the topping: combine the flour, sugar, cinnamon, and salt in a food processor.
Scatter butter over the dry mixture; pulse until the mixture resembles fine crumbs.
Dump the crumbs into a large bowl and gently rub between your fingers to make large buttery crumbs; refrigerate until ready to use.
Take pie from oven and lower temp to 375°.
Carefully dump the crumbs in the center of the pie and spread them evenly over the top with your hands.
Return pie to oven, placing it so that the part that faced the back of the oven now faces forward.
Slide a large foil-lined baking sheet onto the rack below to catch spills.
Bake for about 25 minutes or until juices bubble thickly around the edge of the pie.
Transfer pie to a wire rack; let cool.
Serve barely warm or at room temperature with ice cream.