Dramamma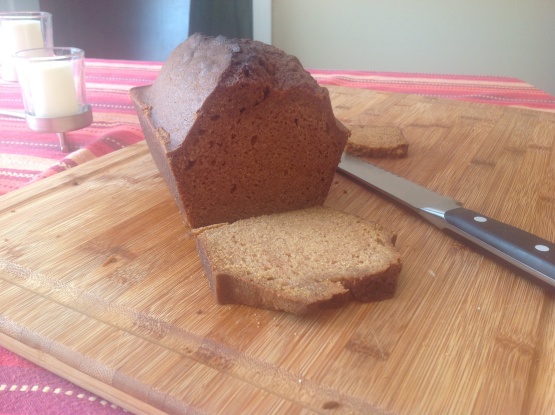 A moist and delicious alternative to cake, made with healthy, fresh pumpkin. Canned pumpkin fills the key ingredient, but fresh is much better tasting! I always omit the nuts.

I tried this recipe as muffins, miniature muffins, and a bundt cake. My family gobbled it up. I don't usually use pumpkin pie spice so I looked on this site for an alternative and found one that called for 1 1/2 tsp cinnamon 1/2 tsp. nutmeg 1/4 tsp. cloves and 1/2 scant tsp ginger. I didn't have any ginger so just left it out. They loved it.
Preheat oven to 350°F Spray standard size loaf pan with cooking spray.
Combine sugars, pumpkin, oil, vanilla extract, water, and eggs.
Sift together dry ingredients. Slowly add to pumpkin mixture and mix well.
Pour into prepared baking dish.
Bake at 350°F for 1 hour 15 minutes.
•Options:.
BUNDT: Double recipe. (My personal preference.) Drizzle with a 1/2 cup brown sugar, 1/2 cup chopped pecans or walnuts, and 1/2 cup butter glaze. Melt sugar in butter. Add nuts and drizzle over top of cooled bundt bread.
MUFFINS: Recipe makes 18 muffins. Reduce baking time to 35 minutes.
Freezable for a quick, healthy alternative for dessert.