Fresh Pineapple and Lychee Chicken - Empress of China, San Fran
Satyne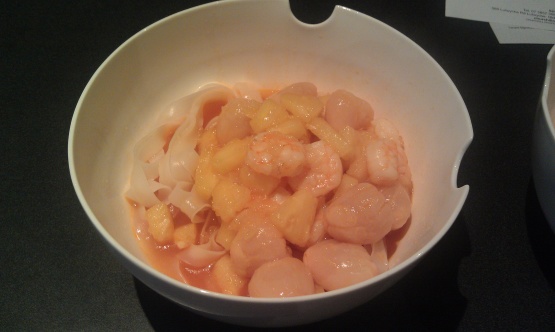 When my daughter spent a summer in China, she told me about lychees, a pink fruit they would pick and eat right off the trees. I'd never heard of them, but found canned lychees in an international market and began a search for recipes using them. This recipe intrigued me because of the unusual mix of juices in the sauce (tomato, orange, and pineapple). It also calls for chestnut flour, which I've never used, but I've been told it's sold in World Market, Whole Foods, and specialty food stores. This recipe is from the Empress of China Restaurant in San Francisco, California.

Top Review by Satyne
This was a delicious recipe, thank you for sharing. I decided to use prawns instead of chicken, so deep frying time was a fair bit shorter (closer to 30-60 seconds) I also could not get my hands on any chestnut flour, so I used cornflour instead, however I have also been told that tapioca or rice flour would also be acceptable. I've been told where to get the chestnut flour from (In Australia it appears that you need to go to a speciality Asian grocer, not just the main supermarkets) so I am looking forward to trying this one again and being faithful to the recipe.
Cut pineapple in half. Remove fruit from shell, dice, and set aside.
Dip chicken in flour. Deep fry in very hot oil until golden brown, about 5 minutes; drain on paper towels.
Combine vinegar and juices, sugar and salt in saucepan. Squeeze lemon juice into sauce and place lemon half in pan. Bring to boil. Remove lemon shell.
Stir in cornstarch dissolved in water. Return to boil and cook, stirring until thick and clear, about 1 to 2 minutes.
Blend in chicken, pineapple and lychees and heat through. Serve immediately.