Fresh Pesto and Tomato Salad
jenne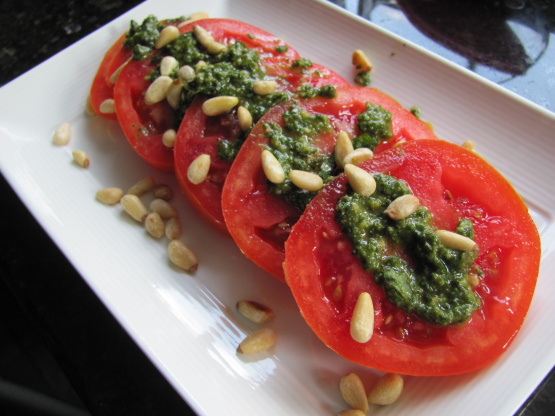 Sometimes simple and fresh is best! That is for sure the face with this recipe that I put together while creating recipes for my vegetarian food blog - http://weekendcarnivore.com . For the pesto, I used Kittencal's Kittencal's Perfect Pesto which really is great stuff! This is enough for one but can be very easily multiplied.

I cheated. I took some homemade pesto pasta salad and placed that on the bottom. Then I added some freshly picked beefsteak tomato. A touch of kosher salt and bliss has been born.
Lay the tomato slices out on a plate with the ends just overlapping.
Drizzle the fresh pesto liberally over the tomato slices.
Scatter with your toasted pine nuts and enjoy.