Derf2440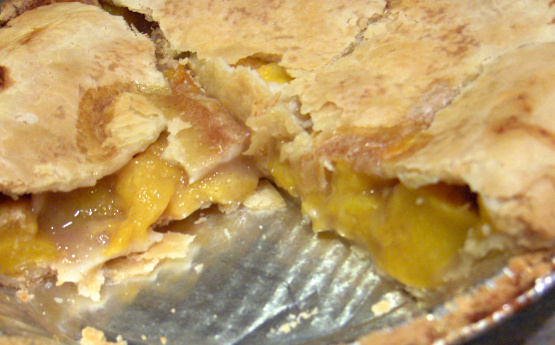 From Betty's Pies Favorite Recipes. Peach was Betty's favorite of all the pies she made.

I have never made a pie before, but the neighbors tree was full of peaches so I decided to attempt this one. My boys helped me make it. It was so easy and the house smelled great while it baked. We ate half for dessert, by breakfast the rest was gone. We are picking more peaches today for a second pie!
Preheat oven to 400 degrees.
Line a 9-inch pie pan with pastry.
Combine the 1 cup of sugar, flour and cinnamon, mixing well.
Lightly mix in the fresh peaches and pour into the pie shell.
Dot with butter and cover with a top crust.
Prick the top crust and sprinkle with sugar.
Put the pie into a 400 degree oven and bake for 40 to 50 minutes.