Fresh Peach Cobbler (Vegan)
Prep 25 mins
Cook 30 mins
Dude, I love this recipe, people rave over my peach cobbler. My girlfriend is vegan so I like to make stuff vegan for her.
Directions
Preheat oven to 400 degrees F.
Combine sugar and cornstarch in a saucepan.
Add in water and peaches.
Bring to a boil.
Stir constantly for 1 minute.
Pour into a baking dish and sprinkle with cinnamon.
Combine flour, sugar, baking powder, and salt.
Cut in margarine until mixture has a cookie dough like consistency.
Stir in soymilk until mixed.
Drop by spoonfuls on the fruit (It won't cover it completely, but will when it bakes).
Bake for about 25-30 minutes.
Reviews
Most Helpful
If I hadn't know this was vegan, I would never have guessed! It tasted great, I too struggled not to eat the whole thing; so delicious!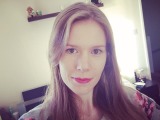 Delicious! It was hard not to eat the entire cobbler in one sitting!
Dude, this actually WAS awesome! Made it for some ladies who LOVE to cook and bake, and the recipe was requested many times! Great peach/cobbler ratio and not too sweet! Your girlfriend is one lucky chica!!