Fresh Peach Cobbler, the Absolutely Best Ever
Bev I Am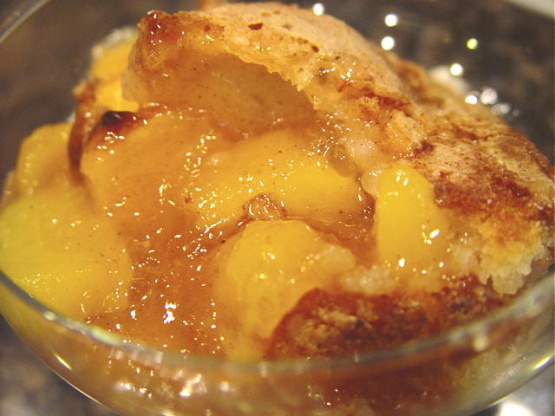 A wonderful version of the old classic, this peach cobbler has a glazed finish to the top.

Top Review by PanNan
The crunchy glaze topping made this delicious peach cobbler unique. Since there were four of us, and I didn't want left overs, I cut the recipe in half, and that worked beautifully in a 8 X 8 square glass pan. Thanks for sharing this great recipe, Leta.
Preheat oven to 375 degrees F.
In a mixing bowl, combine tapioca, peaches, sugar (if used), cinnamon and nutmeg.
Mix thoroughly.
Pour the fruit mixture into a buttered 9" X 13" baking dish.
In a bowl mix thoroughly the ingredients for the Cobbler Dough.
Spread over the fruit mixture.
In a medium mixing bowl, stir together DRY cobbler topping ingredients.
Sprinkle evenly over the cobbler dough layer.
Then pour the boiling water evenly over the cobbler.
(Do Not Stir.) Bake for 1 hour and 20 minutes or until knife inserted comes out clean and top has a golden crust.