Ashley Cuoco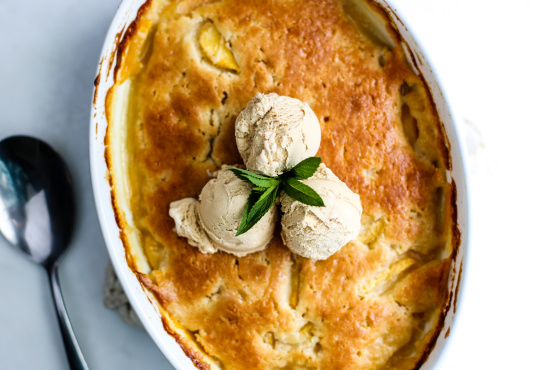 This recipe was given to me many years ago by Mrs. Orin Stevens of Fargo, ND. She told me she'd gotten it from a church cookbook. I've used fresh, frozen and canned peaches with equal success.

OMG! This was incredible! I've never made fresh peach cobbler before and it was so easy. I've never even attempted to slice fresh peaches before either. I boiled them for 1 minute, let cool a minute, then the skin came right off. I took a knife and scored the peach all around into 7-9 sections from top to bottom and used my thumbs to pry the slices away from the pit. It worked out well and didn't bruise the peaches at all and they were pretty ripe. I added a shake of cinnamon over the peaches and to the batter. I used 8 small peaches from our local peach farm in SC and cooked in a glass 9x13. I ended up pouring the batter over the peaches (it was not runny batter) and using a spoon to spread it out over the peaches instead of dropping spoonfuls of batter on top. Spreading was the way to go. I took it to a BBQ and everyone loved it!
Grease a 9 x 13-inch pan and line with peaches.
Combine 1/2 cup sugar, flour, baking powder, salt, margarine, vanilla and milk.
Stir till smooth.
Pour over peaches.
Combine 1 cup sugar and water.
Pour over batter.
Bake 1 hour at 350°F.
Serve warm or room temperature.