Fresh Peach and Nut Cake or Cobbler
PanNan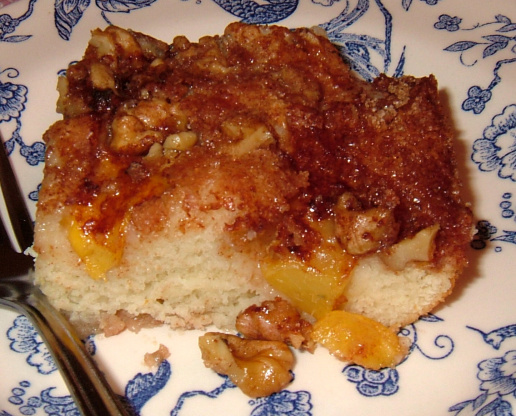 Cake or cobbler depends who eats it! I just bought a bunch of the juiciest peaches! Eat a couple then came up with this sweet, fragrant, doughy cake. I used walnuts but pecans would be great too. This is easy to bring for picnics just bake it in a foil pan. I leave the skin on the peaches for the nutrition. But you can peel them but it real is good with the skin.
Top Review by PaulaG
A friend had given me some fresh peaches and they needed to be used fast. I really enjoyed the ease of prepartion in this dish. I used pecans for the walnuts. It was more like a cake than a cobbler and definately warm is the way to go with a scoop of vanilla ice cream. :yummy:
Preheat oven to 350°F.
Grease and butter a 9x13-inch glass pan.
In a food processor mix the dough ingredients.
Pour into prepared pan.
Mix sugar and cinnamon together.
Pour half the sugar on batter.
Place in 3 rows 10 slices of peaches each row.
Eat 2 slices for yourself.
Sprinkle the chopped nut over the peaches then top with the sugar and drizzle the butter over the sugar.
Bake for 30-35 minutes.