Fresh Orange Slices with Honey and Cinnamon
Rita1652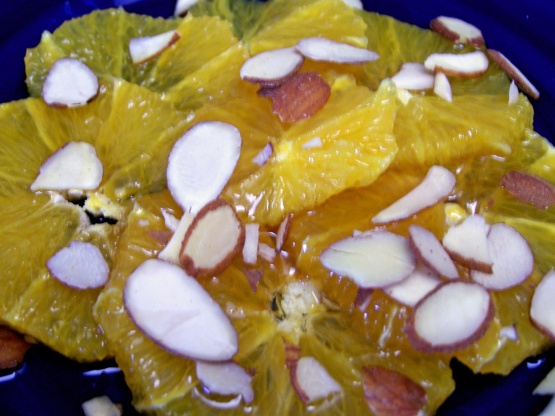 Simple often equates with elegant in my book. This recipe does justice to both of those adjectives. Couldn't be simpler, or more elegant-looking, or more delicious.

We enjoyed this for dessert this afternoon. It was a really hot day today and this was the perfect treat to enjoy cold! This was soooooooo delicious and truly very enjoyable! Thank you so much for a wonderful, simple and easy to fix dessert. Couldn't get any simpler!:-)
Using small sharp knife, cut off peel and white pith from oranges.
Thinly slice oranges into rounds.
Arrange orange slices in shallow bowl.
Combine honey, cinnamon stick, and orange flower water in heavy small saucepan.
Stir over low heat until mixture comes to simmer, about 2 minutes.
Pour hot syrup over oranges.
Cool.
(Can be prepared 1 day ahead. Cover and chill.) Sprinkle almonds over oranges.
Serve cold or at room temperature, with a dollop of yoghurt or sour cream on the side, if desired.
*A flavoring extract available at liquor stores and in the liquor or specialty foods section of some supermarkets.