Fresh Orange Cupcakes With Orange Icing
Marija P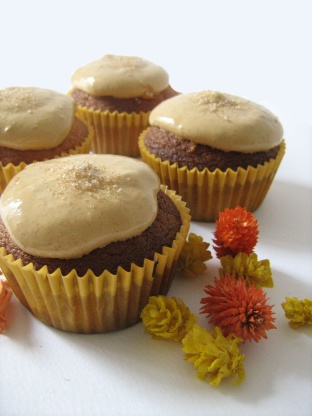 These are as light as a cloud! For the best results make certain all ingredients are room temperature.

followed the recipe exactly but they turned out really bland and not orangey enough. probablywon't try rhis again
532.32

ml pastry flour

295.73

ml sugar

14.79

ml baking powder

4.92

ml salt

78.07

ml vegetable oil

177.44

ml buttermilk (room temperature)

14.79

ml vanilla (or use 2 teaspoons orange-flavor extract)

1

orange, zest of (or to taste)

59.14

ml fresh orange juice

2

egg yolks (room temperature)

2

egg whites (room temperature)

59.14

ml sugar
orange food coloring (optional)

ORANGE ICING

118.29

ml butter, room temperature

768.91

ml icing sugar (more as needed)

4.92

ml vanilla

14.79

ml grated orange zest

29.58

ml fresh orange juice
orange food coloring (optional)
orange sprinkles or colored sprinkles
Set oven to 350°F.
Line 18 muffin tins with paper liners.
For the cupcakes; sift together the flour 1-1/4 cups sugar, baking powder and salt.
Add in oil, buttermilk and vanilla or orange extract, beat one minute using an electric mixer.
Add in the orange juice and egg yolks; beat for about 1 minute more.
In a another bowl beat egg whites until foamy.
Gradually add in 1/2 and beat until stiff peaks form.
Gently fold in the whites to the creamed batter.
Evenly divided the batter between the muffin tins.
Bake for about 15-20 minutes, or until cupcakes test done.
Allow to cool completely before frosting.
FOR THE FROSTING; in a bowl beat the butter until fluffy (about 3 minutes).
Add in the vanilla, zest and orange juice; beat until combined.
Add in 3 cups icing sugar to start, adding in more if needed to achieve desired consistency.
Add in a few drops orange food colouring if desired.
Spread on the cooled cupcakes, then sprinkle with orange sprinkles if desired.