Fresh Nectarine-Ginger Cake
BarbryT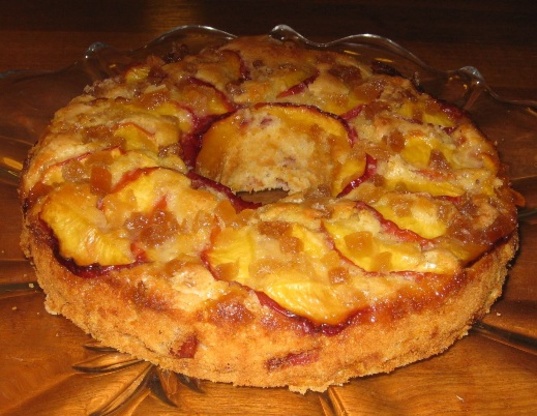 A delicious not-too-sweet cake. Perfect for afternoon tea, or breakfast, or a summer dessert with cream or vanilla ice cream. It is loaded with fresh fruit! The amount of time it will take to cook depends on the juiciness of the fruit...from 50 to 70 minutes. It is done when the top is firm and golden brown. From the Metropolitan Market "Real Food" magazine.

Made this to take to Slow Food Potluck- and then got to share with SLC SF group! Now taking it to two more events this weekend! It's a one-bowl wonder!
Preheat the oven to 375 degrees Fahrenheit.
Lightly oil and flour a removable bottom cake pan (e.g., angel food cake pan). Set aside.
In a large bowl, beat (or whisk) together the eggs, milk and oil. Grate the zest off the lemon (use the rest for another purpose) and add to the bowl. Mix well then add the 2/3 C sugar and the ground ginger. Beat well; stir in the flour and mix until a smooth batter is formed.
Wash the nectarines and pat them dry. Cut the flesh of four nectarines into small pieces (1/3 to 1/2 inch). Add to batter and stir gently until the fruit is completely incorporated.
Pour the batter into the prepared cake pan. Slice the remaining necarine very thin and lay the slices on the top of the cake to cover. Sprinkle with the candied ginger and the remaining 2 T sugar.
Bake 50 to 60 (or 70) minutes until firm and golden. Remove from oven and cool completely before serving.